Alexanders Horse Boxes
Alexanders Horseboxes was founded in 2005 by Alexander Brimelow. Already a partner in the sister business Alexanders Prestige with long term friend Andrew North, both were very experienced in the high end motor trade and had brought their exacting standards together in Alexanders Prestige which has now grown into one of the most respected dealerships for pre-owned and new Range Rover, Ferrari, Bentley, Lamborghini and Porsches in the country.
Alexanders Horse boxes
Tired of towing that float every weekend?
Don't have a class 2 licence so can't get a horse truck?
Want something new, easy to drive, comfortable for those one day or overnight shows then Alexanders Horse boxes might just have the solution for you.
Built on brand new Renault chassis – Europe's leading light commercial vehicle for the last 18 years – with all the standard Renault warranties. With Renault reliability, the build quality of Alexanders Horse Boxes all you have to worry about is staying on the horse
Safety
These are designed to keep you and your horse safe. Unlike a conventional float the horse travels backwards. Between you and the horse is a reinforced bulk head, cushioned to take any impact from the horse. Its also designed to give you and the horse the greatest chance of survival in an accident.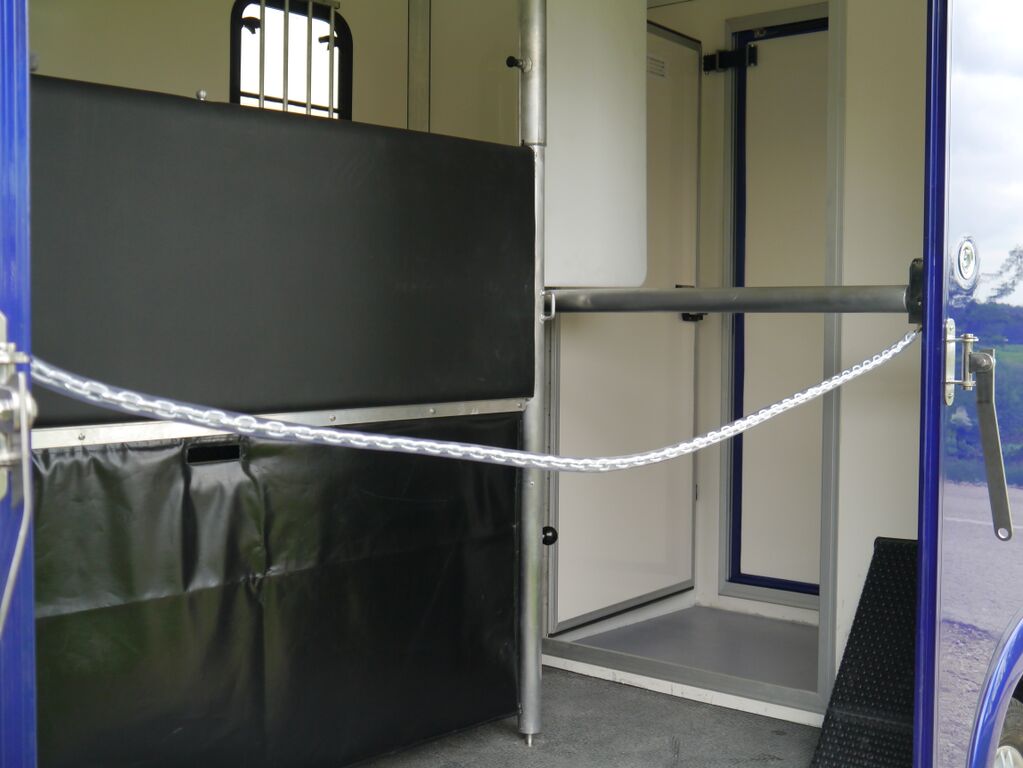 Alexanders Sportline 2 Stall Renault Master 125hp Business Edition 6 Speed Manual
Chassis Specifications
Renault Master Platform Cab L3                              
2.3 Dci Diesel engine
125 Bhp
6 speed manual gearbox
ABS & Adaptive ESP with ASR
Central locking, alarm & immobilizer
DAB Radio CD with Bluetooth audio
Hands Free telephone conncetion
Electric Pack (windows & mirrors)
Driver Airbag
Drivers seat Armrest
Dual passenger bench seat with fold down seatback table
Extra wide view side mirrors
Factory supplied Renault Alloy Wheels
Body Specifications
Aluminium faced 30mm sandwich panels
2600mm length horse area
2400mm height in horse area
2040mm width in horse area
Integral luton storage
900mm x 2000mm tack & changing room separated by internal wall with access door
Saddle & bridle hooks in tack room
Shelves & under seat storage in tack room
Lightweight padded aluminium partition
Fold back head divider on partition
Collapsible Breast Bar for safety
Fully fixed, sealed and drained rubber floor
Multiple tying points inside and out
LED strip lighting and over ramp spotlight
Vinyl covered fast clip safety chain on outer stall
Rood ventilator and sliding windows with protective grilles
50/50 split ramp and lift up top door
Sportline Spring assisted ramp
Extra wide internal and rear door for emergency exit
Priced from just $69,995 these make good buying for those people who care not only about themselves, but their horses safety and wanting something that drives like a car without the hassle of towing a float
For more information Contact Us